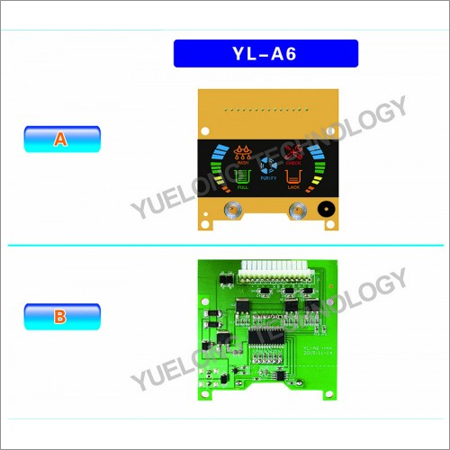 YL - A6 - Purifier Board
Product Code : 03
Product Description
Summary: water filter circuit board
Application scope

:≦

400G water purifier
Operating temperature

:

-20°C ~70°C
Operating Humidity

:

5%-85%
Performance Indicators:
Power supply

:

DC24V
Load current

:

3A
Controls Power Consumption

:<

5W
Screen size

:

70*30mm
Mounting holes size

:

120/110*50/40/20mm
PCB size

:

130*60mm
Specific Function:
Power :
The computer board energized after 2 seconds to enter the operating state. Buzzer chirping and machine automatically flush for 18s. Icon flashes indicate the respective operating state.
Wash: s=seconds
Boot automatically washing for 18s
Press the "Strong Wash Button" to automatically washing for 18s.
Automatically washing for 18S every 6 hours.
Automatically washing for 18S when water lack turns to source
Automatically washing for 8S after water full (Cumulatively purify more than 60s, automatically washing for 8S after water full)
Purify:
When the switch detected a pressure lower than normal high pressure,the booster pump started to work,inlet valve opened and entered the purify process.
Full:
When the pressure reached a certain degree in pressure bucket,high-voltage switch turned off, the machines shut down,inlet valve closed.
Lack:
When the low pressure switch detected the water pressure below the set value or the computer board detected low pressure switch off,the machines shut down,booster pump stopped,inlet valve closed, buzzer chirping for 10 seconds
Check:
Continuously produced water for 6 hours(no water full), it means something wrong happened to the machine and entered the check process, buzzer chirping for 10 seconds.
Contact Us
Room 707, Incubator Building No.1, No.11 Changchun Road, High-Tech Zone, Zhengzhou, Henan, 450000, China
Phone :86-371-86507515